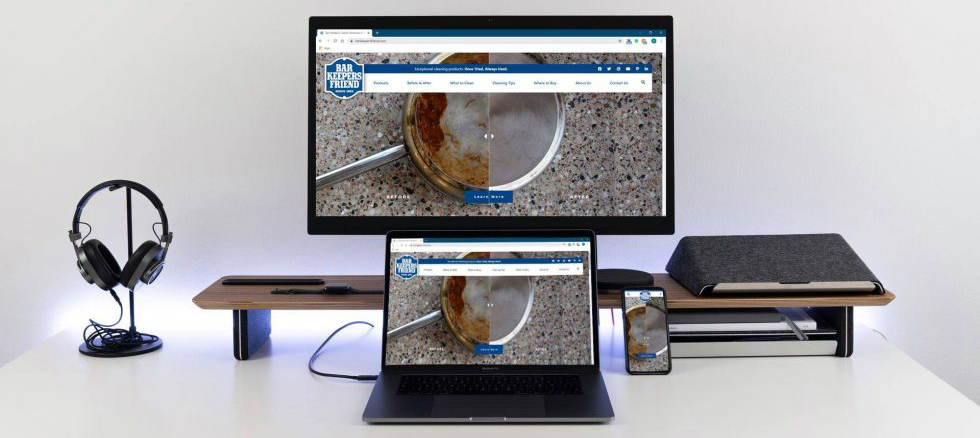 Custom Web Development
Putting A New Shine On BKF's Web Design
(Pun Intended)
I first had the pleasure of meeting the crew of Barkeepers Friend a few months ago while working on a different project. After a tour of the facility, I sat down with Paul, Hans, Christina, and Felicia to talk about their company, products, goals, and how CCD could contribute to their continued success. I learned a lot about the history of the BKF brand and left that day pumped and ready to get to work "cleaning up" their digital space. 
Here is how Circle City Digital was able to help!
WEB DEVELOPMENT
Bar Keepers Friend is focused, first and foremost,  on customer satisfaction. For this reason, one of their top priorities was (unsurprisingly) that the website we designed and developed had to be easy to navigate and as user friendly as possible. 
BRANDED WEB DESIGN
A key element of any successful business is a website with strategic brand placement. We kept the brand visible with before and after photos from real clients on every page. No staged photography here, only real proof that BKF products really work!
3RD PARTY INTEGRATION
BKF partners with a number of other companies to help increase functionality for their customers around the world. Because of this, we had to ensure that the website we developed could integrate seamlessly with those services. 
Who is bfk?
A cleaning product
that actually works.
During my tour, I was beyond impressed to see the level of detail that went into each step of the production process. Not to mention the rigorous quality control measures they take to ensure that each batch is made correctly and safely.  So, to say that I was excited to be gifted with a sample of the products to try at home would be an understatement. I was totally pumped to get home and see how they worked!
Being an avid coffee drinker, the first thing I absolutely had to try was the "Descaler" for coffee makers.  I was, honestly, astonished at how well it worked! Now that my coffee was brewing in record time, I couldn't wait to try some of the other products I had brought home. Next, my wife (an ex-bartender) insisted that I try the original Barkeepers Friend Cleanser on our stainless steel sink. She said she used to swear by the stuff when she was "slinging drinks" back in the day and after only one use, I can see why!  We went on to try the rest of the products and found them to be equally impressive.
Now that I had a good understanding of the products, processes, goals, and vision, I couldn't wait to get to work on the web design project. I knew that at the top of their "must have" list was an easy to navigate and user friendly site. It's easy to understand why since they have customers from every age group and from all around the world. I knew that this was the first thing we had to "clean up" (pun intended). After working out a design plan and implementation strategy it was time to start development!
DESIGN SO CLEAN YOU CAN EAT OFF IT
Web Design With
Branding In Mind
The next hurdle to jump was making sure that our web design matched the already well established Bar Keeper's Friend Brand. With over 100 years of being in business, we knew how important brand visibility would be in the success of their new web design. We were able to achieve this goal by following our tested and tried process that has become the cornerstone of our high quality websites. This process includes a lot of input and communication with the client which can sometimes be time consuming. The Bar Keeper's Friend team was fantastic, however, with providing feedback and information every step of the way because they understood how important it was to the end result.  It was an honor to be able to work with such a great group of people and help promote a truly awesome product and I look forward to building the partnership further! 
Interested in getting to know our team?